Looking for a new job? It isn't as difficult as it used to be decades back. These days, you can make the most of the social media platforms for this purpose. Yes, the social media platforms can help you beyond what they are commonly used for – to remain connected with friends and acquaintances. There are millions of active users on these platforms and you can make the most of this. You can connect with them in a bid to look for your new job.
Social media platforms like Facebook are quite popular these days when it comes to job search. But that's not what comes to your mind the moment you utter the two terms together – job and social media. It makes you think of LinkedIn, which is one of the most effective social networks for professionals. With over 350 million users, LinkedIn surely is a great platform for job search.
So, LinkedIn can turn out to be one of the best platforms for you to look for a job. However, most of the job seekers using this social network tend to make a few mistakes. And you need to ensure that you avoid these pitfalls for the best results during LinkedIn job search.
Here's a quick look at some of the common LinkedIn job search mistakes that people commit.
#1. Putting No Headshot on Profile
Do you have a display picture for your profile? Have you put up your own picture there?
That's something extremely important. And if you haven't put up a picture on LinkedIn, that's sure to deal a blow to your job search hopes. Because if you want to impress your potential recruiter, it's essential to have a profile picture for your LinkedIn account.
As LinkedIn expert Nicole Williams says about the profile images: "You're seven times more likely to have your profile viewed if you have one. Like a house that's on sale, the assumption is that if there's no photo, something's wrong."
So, it's better to include a headshot in the profile in your professional best to convey a positive vibe to your potential employers.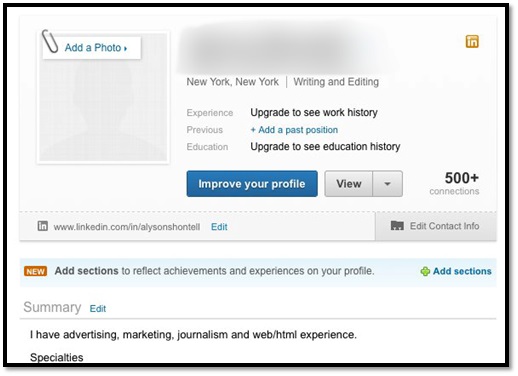 [Image source: http://static2.businessinsider.com/image/503e79c66bb3f75b43000001-1200/you-have-no-picture-in-your-profile.jpg]
#2. Using an Image that's Not Yours
You understand that an image is extremely necessary to give your LinkedIn job search opportunities a booth. So, you have put up an image on LinkedIn. But you are still not getting the desired results.
So, what's wrong?
Just check whether you have uploaded your own image on the profile. There are several profiles on LinkedIn, which do not have the images of the owners, but some random pictures. And they fail to make the mark.
It is essential to put up an image of your LinkedIn profile that shows you in your professional best. Only then you can expect to attract the attention of the recruiters on this professional network.
#3. Not Updating Status Regularly
Do you use LinkedIn on a regular basis? If you are looking forward to a job change through this platform, it's something essential. And you should also regularly update your status on LinkedIn.
Now, updating your LinkedIn status is no way similar to sharing a status on other social media platforms, such as Facebook, Twitter or others. Instead, you should provide a regular update about what's happening at your professional front. This is going to play a dominant role in keeping the potential recruiters interested in your profile. But make sure you don't overshare.
#4. Ignoring the Past Experiences Part
Why should an employer recruit you?
Because you have some expertise in that. And relevant experience as well. So, it is essential to let them know about those. And this is where the past experiences section in your LinkedIn profile comes in handy. You can include all your relevant experiences there.
But a lot of people seem to ignore that part and keep the section empty. Are you doing that as well? Then it is surely going to hurt your effort to find a job with the help of LinkedIn.
#5. Keeping an Empty Profile
LinkedIn offers you a wide range of options to fill in when you are creating your profile. In addition to your name and other basic details, it includes, among others:
Experiences
Recommendations
Languages
Certifications
It is important that you fill up each of them. It ensures that your level of expertise is visible to the recruiters. This will also make your profile easily visible and thus, increase the chances of you landing your dream job.
#6. Ignoring the LinkedIn Summary
Do you use LinkedIn on a regular basis? Have you ever come across the LinkedIn Summary section?
It is one of the most important parts of your profile. It is quite similar to its namesake in the old format of resumes. Here you can add your career highlights. So, this is just the perfect part of your profile to attract the attention of the recruiters.
So, a great LinkedIn Summary is likely to act as a resume for you. Make sure it is completed.
LinkedIn is a professional platform. So, no way you should go too personal there. Besides, you also need to keep an eye on different groups on LinkedIn, as it's from there that you might get a chance to connect with people who might be influential in helping you land your dream job. But for that, you need to avoid these LinkedIn mistakes to ensure you have the best results.
Image Courtesy: www.socialmediatoday.com