When you start a business, what is the first thing that you need to do?
You have to spread the word about it and let people know that a new business is around.
But this is not an easy task.
So, how do you perform it?
In the initial stages, what you look for to do it are free tools, which can help you make people know about your business. And there are many such options as well. But not all of them are leveraged properly. For example, you can use different social media networks to connect with people. While many of the social media websites are used extensively, many are hardly made use of. One such social media network is SlideShare, which, if used properly, can help you bring immense traffic to your website within a short time.
Why Use SlideShare?
SlideShare is one of the many social media websites that you will come across while surfing the internet these days. But there are quite a few things that set it apart in the crowd of social media websites online. Instead of using textual messages, SlideShare depends on visuals. In fact, it is a website where you can upload presentations, which can be created with the help of Microsoft PowerPoint and similar other software that help to create attractive slides. These slides can be used for both personal as well as professional reasons. And when they are shared on SlideShare, they are usually viewed by millions of people.
So, if you are planning to let maximum number of people know about your business, creating attractive presentations and sharing them on SlideShare can come in really handy.
How to Use SlideShare to Bring Maximum Traffic?
Almost 70 million people use SlideShare for professional reasons. Are all of them equally successful? Of course not. Only a few of them are. And that's because they have proper strategies to make the most of SlideShare.
So, what are the strategies that can help you bring more traffic to your website by using SlideShare?
Here's a quick look at some of them.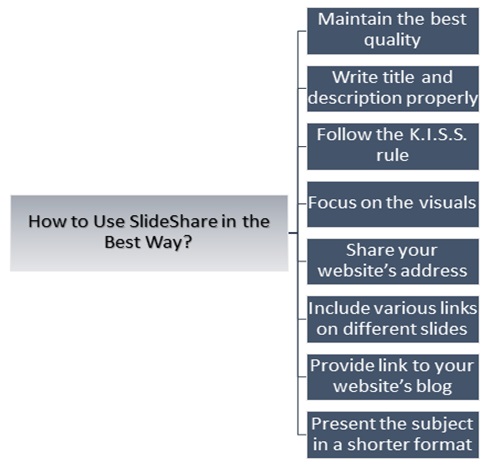 Adhere to the Best Quality
The quality of your presentations should be of the highest order. SlideShare being a site to share presentations, the focus is surely going to be on the visuals. So, it is essential to ensure that the images as well as the shades used in creating the presentation are attractive enough for the viewers. But that does not reduce the importance of the textual messages even a bit. So, you need to write the messages in such a way that the readers love to go through them. Besides, they should also understand the catch of the message immediately to ensure that it has the maximum impact.
Focus on the Title and Description
It's true that the quality of the whole presentation you're creating should be of the top quality. But to ensure that the audience are attracted to the presentation the moment they come across it, the title should be attractive enough.
Besides, write an enchanting description as well, which summarizes what you've shared throughout the presentation. Remember, if the title and description aren't up to the mark, the target audience would not bother to open it at all.
Did you know that SlideShare ranks quite high on SERPs?
It is quite great for long-tail keywords. So, while composing both the title as well as the description, you should try to include a few relevant keywords as well.
Follow the K.I.S.S. Rule
When you are creating a presentation about your business, the first thing that might come to your mind is to share as much with the audience as possible.
The best idea, however, is to refrain from doing that.
Want to know why?
Because while creating a presentation, you won't have lots of space at your disposal. So, you should not try to give a complex structure to the presentation. Instead, it is important that you keep it simple enough, so that everyone can understand it. And to do that, you should keep the messages short as well. You should try to keep the font size quite large and there should not be more than seven lines in any slide.
Concentrate on the Visuals
All things said and done, SlideShare stands apart from most of the other social media websites because it is primarily a visual site. When you are planning to make the most of it, you should focus primarily on the visuals. To do that, you'll have to ensure that the presentation is designed in a perfect way.
So, how can you do that?
Here's a quick look.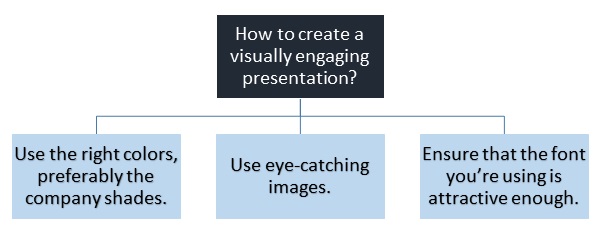 While designing the presentation, focus primarily on the first few slides. It is essential that all of them are attractive enough. This will ensure that the reader continues to view all the slides in the presentation. However, while designing the presentation, you should be wary of not overdoing it. Remember, a presentation too overdone will appear clumsy as well.
Share Your Website's Address
You're creating the presentation to spread the word about your business and let people know about it. But are the presentations large enough to let you share every detail about your business with your target audience?
Of course not.
And this is where it becomes essential to share the link of your website.
If the readers are interested in the presentation that you've shared on SlideShare, they are most likely to click on the link in a bid to know more about your business. So, you are likely to get more traffic to your website and a lead as well, which will help it rank better on SERPs.
Include Various Links on Different Slides
What links are you planning to share on the SlideShare presentation? Your website's homepage address should not be the only link that you are going to share in the presentation that you are posting on SlideShare.
Want to know why?
Because the links to your website are the keys to its amazing performance. So, you should use as many of them in the presentation as possible. You can use relevant links on each slide of the presentation. Besides, the link to the home page can also be shared in the last slide of the presentation.
Remember, the more links you share, the more are the chances of the readers to visit your website, thus driving more traffic to it.
Link Your Website's Blog to SlideShare
Which page of your website attracts maximum traffic?
For most of the websites, it is the blog. And there are enough reasons for that. Blogs deal with in-vogue topics and are have fresh content. This is why blogs are among the favorite haunts of the readers. Besides, many people also land directly on the blog page of your website.
The use of SlideShare can help you bring more traffic to the blog and make your posts popular among the potential readers. To achieve that, you'll need to create each presentation as the synopsis of a blog post from your website.
Want to know how this can be done?
Consider the major points from a blog post.
Summarize these points to create a structure that goes well with the presentation.
Include attractive images to give an attractive look to the presentation.
Such presentations designed from the blog of your website is likely to help your blog and website get more traffic within a short time.
Offer the Subject in a Shorter Format
Why are you creating a presentation and sharing it online?
For the audience to view it and get attracted to your business within the shortest possible time. It will also increase your leads and will have a positive impact on the revenues in the long run.
So, you have to create the presentation in such a way that all of them can easily cater to the requirements of the audience. Remember, most of the target audience of your business will have shortage of time. Hence, they would not be able to go through the whole blog. But they will surely appreciate it if you can present the subjects offered in the blogs in a shorter format. SlideShare will help you perform exactly this task without much hassle. You can divide a blog into different sections and use a single slide for each section.
Creating excellent presentations can help you communicate with your target audience and let them know about your business in detail, albeit within a short time. And for that, you will also have to create simple presentations, so that the target audience can comprehend the presentation without much hassle.
Conclusion
The digital world is advancing at the speed of light. So, it is opening new horizon for every business to leverage the opportunities, which can help it connect with the audience in the more effective way.
If you can use SlideShare in a proper way, you can help your content go viral as well. You can also get the best leads and boost the revenues of your business with it. So, it is essential for you to follow the proper steps while creating presentations on SlideShare to get the best results.
Image Courtesy: plus.google.com