It's the month of October already and three more months to go before we finally bid farewell to 2017 and welcome 2018. Time to get our websites ready for the brand new beginning! You are already planning to get your websites redesigned and set up for the big festive season and you are not alone.
In fact, I typed down a query in Google on the importance of content marketing strategy in 2018 and the SERP was full of trending topics to discuss on. Looks like everyone is talking about 2018 already. Are you?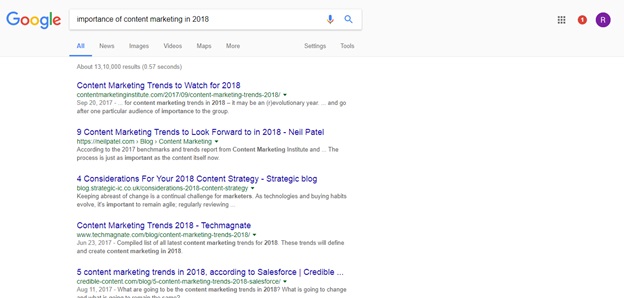 Before we begin talking about what any big changes or what's hot and what's not, why not begin with the important ranking signals that you would need to consider first. After all, the reason why you would work so hard to mend every flaw that your website has and give it a brand new image is that SERP ranking matters a lot, leaving the customer impression aside.
SEO is not about doing everything right. It is about setting aside your priorities and taking care that you get them right. With that, here is the list of ranking signals that will matter to you this 2018 –
Backlinks
Backlinks form an important ranking factor for Google. The more the number of backlinks, the higher would be the ranking score for a particular page. Nevertheless, the links need to belong from diverse and authoritative domains.
When high authorities link their articles or web page to your content, then Google will consider your content as relevant after reading the backlink's anchor text. Having said that, let's take a look at the following things that matter when we talk about backlinks.
Link Score – A link score is calculated based on the individual quality score of every incoming link and the number of links that a site has.
However, it is important to note that a link can only be considered if it is worth it. In fact, links coming from the same domain will not carry much weight. If you have links coming from the same domain, remember that Google will only consider one when evaluating a link profile.
Anchor Text – The anchor text is also called the link label or the link title. It is basically the blue highlighted part of a text that we see on the Search Engine Results Page.
Anchor texts play an important factor when it comes to providing relevant information to the search engine and the users about what the content is all about. We will talk more about Anchor Text in our next article. However, what's important is that why is an important ranking factor today?
An anchor text should be diverse and natural. That means you need to strike the right balance when it comes to anchor texts. So that when other sites consider a particular page to be relevant for a given set of terms, a good anchor text will help the page to rank well by showing the search engine how others will view the page.
User Experience
In digital marketing, user experience has always been an important ranking factor determining whether a content is relevant or not. A search browser is often considered to be the best judge when it comes to determining the relevance of a particular search result. The user experience of a particular result is best judged when the CTR is taken into consideration, which takes us to talk about the importance of CTR as an important ranking signal.
The CTR is the ratio of the number of times that a particular search listing has been clicked to the number of times it is displayed in the Search Engine Results Page. If a particular search listing is clicked more often, then it becomes more relevant compared to the other alternatives in the Search Engine Results Page.
You can measure your search result's CTR by visiting the Search Analytics Report to check the CTR, Number of Clicks, SERP Position and the number of Impressions made.
The average result of a #1 position is 30 percent, a #2 position is 15 percent, and #3 position is 10 percent.
If your listing is below these averages then you would seriously have to work to make it click-worthy. Try following your competitor's footsteps to understand how to make your results page click-worthy.
Content
Content marketing is an essential part of digital marketing strategy. With Rank Brain, Google demands more of user-friendly contents and here are three factors that will create the difference in your content quality –
Keywords are still one of the most important factors contributing to the Search Result Ranking Signal. That's because keywords help search bots to identify relevant answers to user queries. It also helps the user spot a relevant answer quickly. There are three places in a content page, where the keyword placement is a must. These are –
The Title of the Search Result – the closer to the beginning, the better
The Meta description of the Search Result – A short overview of what the search result is all about
The Body Text – It is important to place at least a minimum of two keywords in a content. Do not forget to include one in the H1 tag, which holds the highest SEO weight out of all the headings.
Comprehensiveness is one of the essential features in determining the relevancy of a content. In fact, when it comes Rank Brain, the algorithm tries to understand the relevancy of a search result with respect to the terms used in a query.
For example, in the example 'Best Netflix Show', the query itself is a term based on which Rank Brain is going to help Google identify the contents that will help to best answer the user's intent.
The length of a content can also matter when it comes to determining the ranking factor of a search result. A lengthy content is often favored for its quality. It is believed that a lengthy content will contain references to other well-researched contents highly recommended by authorities within a field.
Besides, there are people who tend to favor reading in-depth contents and a lengthy content can serve the purpose. Basically, the length of a content depends mainly on the subject and the purpose of a page.
Conclusion
SEO is a complex and ever-evolving science. We await new algorithm updates and change in trends as we prepare ourselves for 2018. Let's hope that these essential Ranking factors will help you to prioritize your efforts and overcome challenges with new SEO strategies.
Image Courtesy: Pixbay.com