A case study is a content marketing strategy that businesses use to demonstrate how their solution or processes have helped clients solve their problems.
Whether you have developed a super power application or successfully debugged a software error, case studies allow you to report real-life examples on how you were able to come to your client's rescue it times of need.
This type of content marketing gives you an opportunity to highlight your business successes and to emerge as a potential solution provider that customers can trust.
Besides, case studies are effective marketing tools, especially in the B2B sector. In fact, it stands third in line as an effective marketing tool after in-person events and webinars –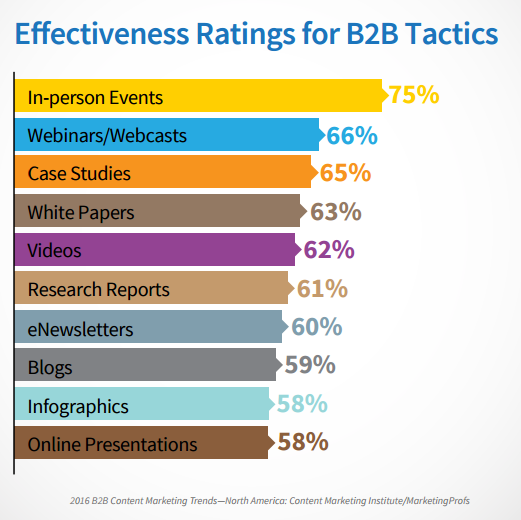 Nevertheless, despite its full potential, the power of case studies is yet to be recognized by businesses and marketers. You would find very few of them actually writing case studies. Reason? Probably because it's boring to write a lengthy account, talking about your strategy and explaining how you helped your client crack the nut. Then again, these are some of those precious 'feel good' stories about your business that you would like to share with potential target customers.
How to Write a Case Study?
Case studies are regular blog writing stuff. They are written in the narrative problem-solving style where both the business marketer and the customer are protagonists. Business marketers will introduce their client's project to their reader, specify the problems and the goals they have to accomplish, point out the strategies and the ultimate result. You may include a quote from your client at the end of your case study or somewhere in between.
This is just a general example and there are other formats in which a case study could be written. In fact, you can compose your own version of a case study if you want to, as long as it serves the purpose that you are looking for.
When Choosing to Write a Case Study – The Important Things You Need
Case studies are written for projects that are remarkable and are worth including in your business portfolio. In other words, the works that you are proud of and would want to flaunt in front of your customers.
To begin writing your business case study, here are some points that you need to look for –
#1 – Product/Service Knowledge
What is the product or the service all about? This is the first thing that anyone would be interested in to know about.
Begin your case study by giving them an elaborate but brief introduction about your client's service.
#2 – Product Demo/ Glimpse
This can be a picture, screenshots, video links…anything that will give readers a glimpse of what the product actually looks like and how it functions.
#3 – The Problem and the Goal
In this section, you will specify what the problem of the product is. After you have pointed out the problem, you will next have to explain what kind of strategy do you propose and why.
#4 – The Solution
How will your solution helped you solve the problem? That's what the reader or a potential lead customer is interested to know. So, you can also call it a climax.
#5 – The Result
Tell them how your strategy and your solution worked out for your client. If possible then provide with some visual proofs or maybe numbers. Your target lead would be interested in you more.
#6 – About Your Business/Brand
This is the conclusion part, where you tell something about yourself. Who are you? You talk about your business.
Now that you know how to write a case study, next comes the important things that you must never forget. Especially when you are writing a case study.
Things You Must Not Forget When Writing a Case Study
Provide an Easy-to-Read Format
Whether you write a case study or a blog, these are some of the things that you cannot afford to forget. It makes your content reader friendly and also SEO friendly.
A good content forget will include the following –
Headers and Subheads
Bullet Heads
Images
Bold and Italic Fonts
Sometimes words do not help. You need to give readers some proof to believe you. As mentioned above, you need to include pictures or metrics.
Metrics work better than pictures. The latter one works only as complimentary when it comes to talking about software problems.
For instance, if you are talking about how you helped your client increase their website visits, then you need a proof for that. Otherwise, how will the readers believe you? Contrast and highlight.
So everyone how you have improved the traffic flow to your client's website. Readers love facts and details. It's a highway to impress them.
I know that I should have placed this in the first point. However, most of us have the habit of writing the title in the end, after we are done writing the blog.
A strong title can help improve the visibility strength of your case study. That is if you intend to use it as your content marketing strategy plan.
Some businesses, on the other hand, use the case study reports only when needed. That is when they have a business meet with a new client. There are also some businesses that keep their case study in some section on their website.
Whatever be your decision, a good strong title is always a treat to the eyes.
Make it Newsworthy
Include Keywords that Strike the Eyes
Few More Important Things to Remember
Do Not Underestimate the Diversity that All Potential Target Markets Hold
There are some people who might not enjoy spending time, reading large chunks of text. In that case, the alternative option would convert your text-based content into other content formats. For example –
Video Content
Infographics
Podcast
Make Them Easy to Reach
Content marketing is an integral part ideal for every type of content. After you are done writing your case study, here are two things that you can do to share your content –
Turn them into newsletter case studies and then send them to specific client targets
Share them on social networking platforms like Facebook, LinkedIn, YouTube and other important places.
Social sites like Twitter might not be the right place to share your case studies. It's not like Facebook and therefore, you must first know what type of content is ideal for posting on Twitter.
Final Note – Remember to Keep these Tips Handy When You are Writing Your First Case Study
Writing case studies is not always easy. This is especially true in the case of beginners. That is why I have tried to elaborate everything in detail. But do you have anything to ask? Then leave a note in the comment section below and I will be right there to reply you.
Image Courtesy: Pixabay.com