Have you used Quora yet? Then it's time to think about it. Actually, you should have thought about it already.
Over 17,222,022 people use Quora as their favorite question and answer referral site.  Businesses use Quora to find new customers, build their own brand reputation and help out people in need.
Unlike Yahoo! Answers or WikiAnswers, Quora is not just a crowd-sourced question and answer platform. Its distinguishing features enable marketers to draw more referral traffic for their websites. In fact, Quora can deliver you the second highest amount of referral traffic right after Facebook.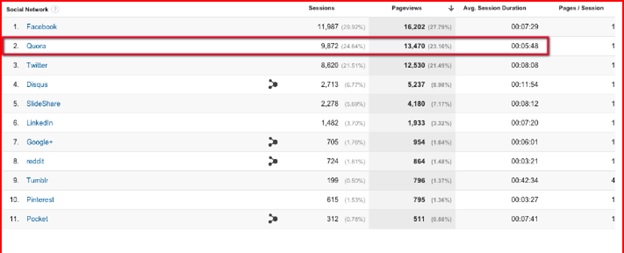 But what makes Quora so special as a referral site? It's not like Facebook where users can interact with their favorite brands through engaging contents of all kinds. Neither is it like Twitter where users can share their point of views with their followers. Besides, the biggest question that lies is that why will anyone look up for answers on Quora when one can simply look up on Google instantly?
So what makes Quora so popular as a Question and Answer Platform?
The best answers for this has been explained by the users of Quora already –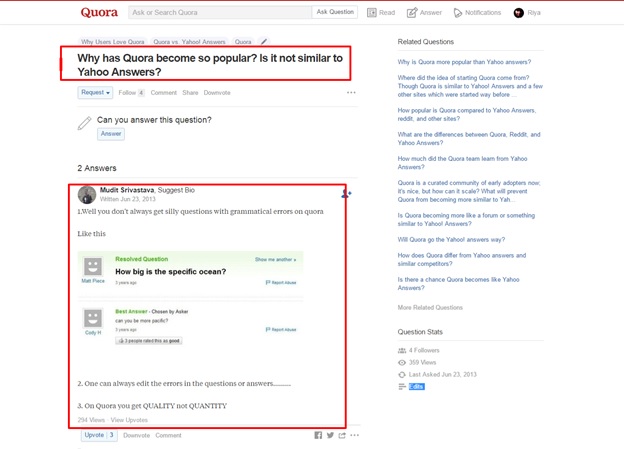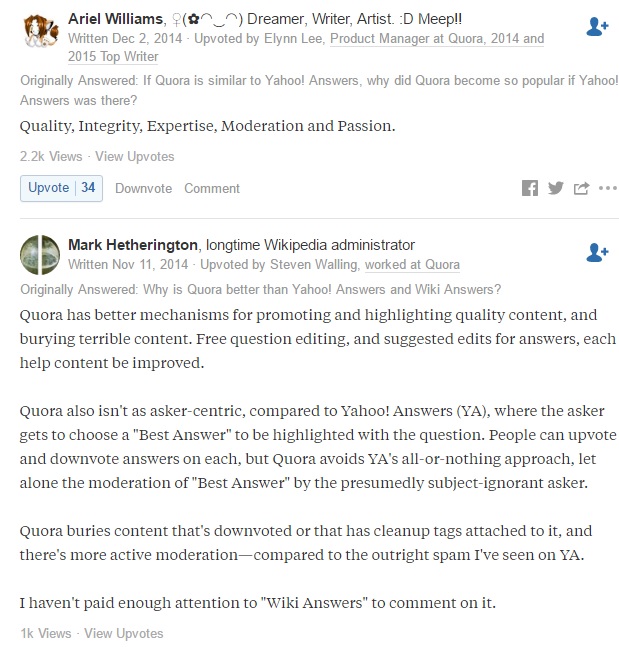 Quora is a platform connecting people from various backgrounds. People come to Quora in search of answers and to ask questions of all kinds.
Just like Google but not like Google
Quora is a combination of answers and social interactions. You find a simple solution to a particular problem explained from different perspectives.
When you ask a question, Google's search engine bots generate relevant organic search results matching your query. The organic results create direct links to different website pages that offer a unique solution to your problem. You need to click on the links in order to look into the answer. And sometimes, what you click on might not have the right solution to your problem.
Quora, on the other hand, has a Q&A format. You post a question and then inspire other users to join you in the discussion. Most of the users who will answer to your question are expertise. So speaking of quality content, Quora takes great care of it.
Quora's efforts to combat link spams and to avoid duplicate questions are pretty straightforward. The platform is backed by a team of content reviewers and moderators. Their work is to remove any kind of whole answers or links that appear to be suspicious (that is – duplicate or badly formatted). The process is manual but the outcome is great.
Every year, there is a change in marketing trends and search engine algorithm updates.  People search for the latest information, stats, and advanced solution. In order to keep up with this changing pace, websites have to release a new set of contents. The Google search engine bots crawl these new contents, which give websites enough visibility online.
However, surfacing new content is itself a challenge. With an increase in congestion of new user profiles, product listings, questions…sometimes makes it untenable for Google search bots to crawl all the new content.
To combat this, Quora has been built as a content curation platform. It has two notable automated aspects that enable users to get only the best of the answers – the topic bot and the nofollow link to websites of low domain authority.
These two aspects make it easier to surface new contents, giving readers a better user experience.
Besides, users can also upvote the best answers and even downvote if they do not like an answer. This way, a reader will know which answer to follow and which to not.
It would be an underestimation if you do not consider it as a strong driving source of referral traffic.
Whether someone is upvoting, following or answering to a question, an internal link will pass its link juice from questions to user profiles, creating a branch of links to other questions. Based on user actions, new popular contents rise to the top.
Take a look at this infographic explaining how the Quora can help users and businesses –

Another Big Reason why You Should Not Leave Quora Out of Digital Marketing and Brand Promotion –
It's Global Rank and Niche of Users
According to Alexa, Quora holds a global rank of 122 and stands at 67th position in the U.S. It has a broad range of customers, the most active of which belong to the age group 18 to 34.
Quora is a big sea with plenty of fishes to catch. Now as a business marketer, you must be thinking what kind of questions you can post on Quora. The thing is, Quora is more than just a Q&A site.  Here's why –
#1 – Blog to Share Your Thoughts
While you can read all about Quora Blogs later, here are some highlights that will tell you how Quora Blogs fare when posted online –
A blog posted on Quora receives an average of 30,000+ monthly views and an estimated 350,000+ annual views.
The most active bloggers enjoy an average monthly view of 90,000+ and an estimated annual view of 1+ million.
Great contents receive better exposure and are read by tens and thousands of people using Quora.
Every Q&A interaction among users can be a generation of new ideas. So if you come across a question that sounds brilliant and finds excellent answers, then why leave the opportunity of crafting a great content out of this?
Quora gives you access to a thread of similar blog topics. You can check them out and then finally decide how to begin writing your blog content.
You can share this blog post with your followers on Quora. The best thing is that Quora comes with social share links embedded. You can share your blog post link on Facebook if you want to.
Not just Facebook! You can, in fact, share your Q&A on Twitter and Linkedin as well. You can also embed Quora on your blog page and share your latest contents directly. If you have a WordPress Blog, then go to Settings and connect your WordPress Blog page.
#2 – Measure Your Performance with Proper Stats
With Quora Stats, you can measure how your contents are performing online. Whether they are engaging or not? Use these statistics to refine your contents then.
In fact, with Quora Stats, you can view which of the latest topics are trending.
A movie buff like me can search for topics on La La Land and then choose which one to read and which to not based on the number of followers a particular post has.
Besides, Quora also brings its best writers to the limelight. And this is based on the number of views your content is receiving. If the numbers are good then your profile will be featured on the top right corner of the page.
#3 – Strengthen Your Community Relation
Apart from allowing people to share their thoughts through Q&A session, Quora also allows eager followers to communicate directly with expertise. Anyone can send their messages directly.
Through your messages, you can interact, answer to queries in depth and manage your brand reputation online.
Summing Up
So what are you waiting for? Include Quora in your digital marketing and win exciting results out of it. It's worth an experience I promise.
Quora is a great place of potential traffic resource, appealing content source, authoritative presence, and credibility and a promise of better customer service.
Image Courtesy: www.searchenginejournal.com