The emergence of multi-screen technology has simultaneously led to the rise in popularity of mobile apps.
Whether it is logging into one's social account or transferring a file from one device to another, people now engage with mobile apps more than often. Therefore, it is not surprising to learn that there are 160,000 apps on Google Play, 150,000 apps on Apple store, 40,000 apps on Amazon store, 34,000 apps on Windows Phone Store and 130,000 apps on Blackberry World. But as the numbers continue to increase, here is a thing that will worry the app developer even more – "How to get people download my app amidst so many clutter and clamor?"
Good coding and successful submission of an app to the online store does not mean an app is ready for download. People might not notice it at all. A successful mobile app needs more than just that. Read on!
App discovery therefore, does not happen in the app store only
In fact, according to Google Mobile Marketing insights, only 40 percent of smartphone browsers head to the app store to look for new apps.  At least one in every four app users is likely to discover an application through search. And most of the times, 50 percent of people admit downloading an app after being prompted by search ads – one of the most effective formats of mobile app promotion.
Search is a Major Source to the Discovery of an App
It is the most natural way through which customers tend to come across an app, thus helping to boost awareness, raise visibility and drive more app downloads.
The best way to increase the online visibility of a mobile app is to invest more on app promotions designed for downloads, based on consumer experience. This means extending your campaign beyond ad formats like creating a separate website or focusing your budget more on PPC ads.  Investing on marketing is costly and most of the top app developers (earning more than $ 50,000) set aside a sum close to $30,000 for the promotion of their apps.
But this might not be applicable for all developers. There are some independent developers and small scale development teams who do not have sufficient fund for mobile app marketing. Hence enters the importance of social media marketing.
What are the top internet marketing mediums, used by businesses on the social media? It's hard to pin-point all of them, for there are many to speak of. But you will agree with me that content marketing is one of the dominating marketing mediums that are launched to engage with target audiences.  So should you be investing more on content marketing to make the most of your social media advertisements on Facebook, Twitter Marketing, and others?
Content Marketing on the Social Network
The social network is an extension of millions of people connected to each other. It's also one of the cheapest and the most effective mediums that can help to hold the reigns of your mobile app marketing.
Contents are written texts that are easy to share and get shared. With social media, it turns out to be a chain reaction. In fact, contents have the same power and capability when it comes to getting people engaged.
At the same time, it also creates the challenge of preparing universal content materials that will be accepted by all. This leads content marketing strategists to come up with various content marketing types that best suit their purpose.
Creation of the Viral Loop in Socio Content Marketing
There are two words can best explain what viral loop in socio content marketing is – It's deadly contagious!  Clickbait articles make a wonderful concept for app developers who have to depend on the limited marketing budget. Together with social media, they form to become a viral loop that your mobile app advertisement needs. It's true that they have a very bad reputation, but results are 100 percent real.
You simply cannot resist clicking on clickbait contents and there is a science working behind this.
According to studies, clickbait articles help to build up a curiosity gap that works to motivate the reader to take the action. These are a combination of psychological, social, analytical and creative advertising techniques. The result is hugely rewarding and when used for app marketing, can bring more conversions and social share.
How Clickbait Articles are More Contagious than Conventional Articles?
#1 – It's the Headline that speaks everything
According to Jeff Bullas in an interview, the difference in engagement between a headline not going viral and going viral is up to more than 6000 percent. The purpose of a clickbait article is to generate page views.
The headlines are shorter, snappier, wittier and more clever – the ingredients just enough to create a teasing and intriguing reaction.
This can help a mobile app marketing campaign to generate sufficient page views and ad revenue compared to traditional articles.
#2 – They Can Spread Super Fast
Generally speaking, a clickbait article is designed based on the set-up of a social networking platform.  The contagious nature of this type of content encourages repeated clicks from users present in your social networking circle. If the conditions are good, then you won't even have to worry about the number of shares and likes that your content is generating. The number of clicks that the content generates on the social media will automatically increase the visibility of your page. So, without any effort from your end, the mobile app promotion gets automatically spread faster.
It's purely about entertainment that you can very strategically put to use for your mobile app marketing campaign.
#3 – They Make People on the Social Network Strangely Gullible
Clickbait articles make people strangely gullible. They will click on your article simply out of curiosity to see what happens inside when clicked on. They become less judgmental. Isn't it a good reason to invest your mobile app promotions more on clickbait content marketing? After all, it's the branding of your newly launched mobile app that matters the most.
How to Use Clickbait Articles for Mobile App Marketing?
All that your app marketing needs are the four stages that will help to create the viral loop. These are –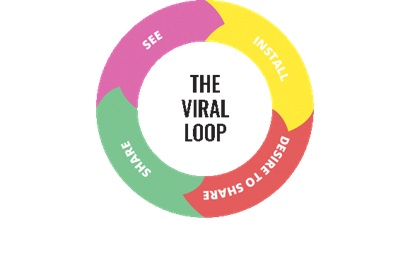 Seeing
Since you are already into marketing, you have an idea who your target audiences are and where do they have more online presence on the social media. Use these platforms to share your clickbait articles with your target audiences.
Installation Incentive
Installation incentives are like rewards that motivate people to take the desired action. While App Store Optimization and promotional advertisements can help you get initial downloads, clickbait articles can get started with the viral loop that boosts up app download.
Desire to Share
Quality clickbait articles can be great tools of promotion on the social media. To create the viral loop, try talking about app usage experiences as the context of your content. It is a kind of incentive that works to create a kind of desire among readers to make them share their success. If your app does not have any success based story to share, then incorporating in-app benefits may sound more preferable.
Sharing
Clickbait articles don't just engage readers but they are also highly shareable. With clickbait articles, your mobile app marketing can take the advantage of a sheer volume of unique customers.
Why Clickbait Contents and Social Media Marketing go together?
It's the moment that matters the most for both. People on the social media will never think of scrolling down to the older newsfeed pages. They will always have their eyes on what's new. You can say the same for clickbait articles as well. They can be fast and contagious that is bound to grab the readers' attention, but once a reader is done with the content, they might not return again (unless it is something that is highly valuable).
This is what makes clickbait articles clever and effective in the short term period– something that your mobile app promotion requires.
Therefore, orientating your social mobile app marketing campaign around viral contents can give your mobile app more exposure, views, likes, and even shares – the things you need to get your application more downloads.
Which is why, digital marketing becomes important post the online launch of a mobile app.