Choosing a content management system is like choosing a life partner. A wrong content management system can gravely affect your business work cycle.
After all, a content management system forms the back-end support of a website management.
The Content Management System Makes Website Management Dynamic
As a business owner, you can divide the different functions of a website and distribute them to your employees accordingly through a content management system.
And what's the best part, you need not worry about when to get your site updated or fix a technical error. A content management system can give access to multiple users. Even non-technical members of your organization can easily manage your website like a pro. While non-technical members can look after the site's content, more technical members can work on your website's design and functionality.
If you do not have any technical knowledge,…no problem. There are many CMS platforms out there and you can always find something that best suits your purpose.
As easy as it might sound, choosing a CMS can be difficult.
The nature of day-to-day activities and the underlying problems in a business are some of the key factors that keep on changing.
Most of the times, an organization's work might outweigh the capacity of a CMS platform. And this problem stems from the fact that most of the enterprise software are purchased by people who do not even use them.
Choosing a CMS, therefore, requires you to understand the basic requirements of your business first. This does not require any strategy as such. All you need is a simple basic approach.
Understand the Three Basic Categories First
There are three basic categories that will help you to specify the type of CMS suitable for your business. These are –
The rising API-centric services and new approaches to publishing (from content-as-a-service and headless CMS to static site generators and mobile backends) – has added a new twist to the overall content management system of today.
As a result, the new breed of CMS software that we have today contains all its complexity beneath the API layer. Developers no longer need to slog through all those complex internal structure, tools and frameworks. However, they need to make a strategic architectural decision, paying equal attention to deployment, security, and performance.
The Content Editor and Manager
A CMS software with detailed documentation might be a sign of quality for a developer. However, for busy editors and content managers, this might be just the opposite.
You can blame this on the extensive technical knowledge that developers have while content managers/editors don't have.
While vendors might have tried to improve their user experience by tweaking layouts and styles and adding descriptive labels, a better CMS interface would remain incomplete without a better authoring experience.
The Authoring Experience or AX requires a CMS platform to be designed in just a way that makes the everyday workflow of content managers/editors easier.
Some of the examples that a page-centric CMS platform can provide are – customizing field labels, preparing and uploading responsive images, identifying old contents and improving them, etc.
An AX enables the editorial team to work on their content model and obsess with how content might look on a web browser and not focus much on the technical side.
The importance of a Manager's role in a CMS selection is often forgotten about. However, you cannot ignore the fact that it is the manager who orchestrates the contribution of an individual to an organization's development.
A CMS platform should help busy managers see the big picture. That is, what content is live or which piece of content is scheduled for publishing or who on the team is lagging behind. Such contextual information can provide managers the ability to enforce validations, visualize recent changes and even track down any kind of security crisis.
Juggling roles and permission is another important feature that a CMS designed for managers' demand. This can allow managers charged with coordinating, to constantly evolve their network of contributors and manage them accordingly. They can also work with their team to capture in-depth information.
The three categories go on to show how the work of different members of an organization can widely govern the type of CMS chosen.
Knowing Your Business Nature
Before you decide to buy a CMS platform for your website, try understanding what your business website demands.
Prepare a checklist of all the important features that your website would need for improving its operations. Like for instance, if you have a news agency, then, in that case, your focus should be more on a CMS platform with content editing and management software.
On the other hand, if you own an online retail store, then, in that case, your focus should be more on product management, website security, and smooth transactions.
Understand your business requirement first before choosing a platform.
Choosing Your CMS Vendor
Now that you have gone through the different categories, what comes next is deciding a CMS suitable for your organization's need.
While some of the basic functionalities that one should never ignore when choosing a CMS vendor are –intelligent search capabilities and easy-to-use editor interface, there are other factors too that one should consider.
This may include services like user mentoring, hosting, web development, strategic guidance, and even basic product patches.
You need to understand how a CMS vendor has been designed in alignment to the market demand. If the vision of both the vendor and the customer are aligned, then you can be sure about the addition of all the desirable features that would help you to meet your goal.
In case if it is not, then your CMS platform will consist a waste of features that are not even useful for meeting your business needs.
A diverse community of sufficient size will help you come across someone who can help you out in time of need. Look out for references from people or organizations who have already had similar goals and challenges.
Choosing a CMS vendor should be as scrutinizing as choosing a spouse. A good CMS vendor means good business management and hence, better business aspirations.
Follow the CMS Usage Statistics
Choosing a CMS largely depends on two things – requirement and ease of usage. However, with so many CMS software out there, evaluating a CMS based on its functionality and usability might be time-consuming.
If you are in a hurry, then it is best to lean heavily on the usage scenarios by following the CMS usage statistics.
A CMS usage scenario is where you will discover everything about a user's interaction with the system.  Here are some features that define how a CMS usage scenario can help you find a CMS for your business –
CMS usage scenarios are written keeping specific target audience in mind
It only addresses only the important and commonly executed task
It provides a reference to the content that the user intends to manage
It gives you a general idea as to how different CMSs are different in terms of product design and approach.
Time is an Important Factor
One of the most important things that you should consider is how much time are you prepared to spend, developing and maintaining a CMS.
This calls for a CMS comparison but at the same time, your potentiality. If you have a big online project that will involve a lot of contributors, then it would be better to go for a CMS like Drupal. You would, however, require knowledge and experience in HTML and PHP.
If you run a middle sized website (like a news site or a social network) then try WordPress or Joomla. WordPress is more apt for beginners, though. Here is a list of CMS comparisons that you would like to check out –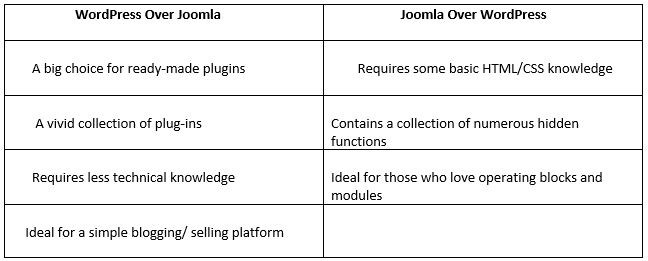 You can choose Drupal over WordPress incase if you are –
Plan to scale your project immensely
If you have no problem with interfaces
If you want to see what other CMS software are incapable of doing
You can choose Drupal over Joomla if –
You have tested it on your local server and you have liked it
If you already have sufficient experience in working with CMSs and in basic web design
If you plan to hire a professional developer soon
Getting Started
While you have already got a basic understanding as to how you can choose a CMS platform for your online website, the considerations, and complexities that accompany it might appear to be plenty.
In that case, it would be good to get some help from a professional developer. This will help you in your CMS selection process, especially if you have zero technical knowledge. This is a point worth considering to help you set up your business website. So what are you waiting for? Get started!
Image Courtesy: www.linkedIn.com